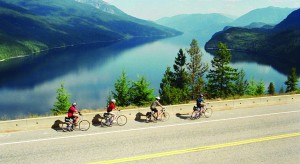 Our event organizers are an amazing group of volunteers from Rotary Clubs all around the Selkirk Loop. This small group of people is the backbone of the ride and many of them will be traveling with you as your ride marshalls or providing additional support. Each day more Rotarians from the local clubs will be on hand to provide additional SAG support, snack and aid stations, luggage handling or anything else that may arise. Their goal is to provide you with the best support possible so that you can have a great ride. The proceeds from the ride is divided between the nine different Rotary Clubs and used to support projects that are important to them – both locally and internationally.
Administrative support is provided by the International Selkirk Loop. The ISL is a non-profit organization dedicated to bringing international recognition to the Selkirk Mountains and surrounding communities in Washington, Idaho and British Columbia – one of the world's truly unique and undiscovered regions. Read more about it or order a travel guide about the area at www.selkirkoop.org.
We also have a number of sponsors and merchants that provide support for this ride. Please see our sponsor page for a list of the sponsors.